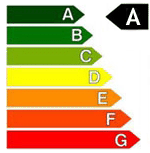 Energy Class A
Philips TL5 High Output G5 lamp base is 40% thinner. Lampvoerm is T5 (also called T16 = 16mm)
Life. This thin (16mm) fluorescent tubes have a loss of only 10% at 19,000 hours (50% at 24,000 hours). They have a very high efficiency (89 lumens / watt) and can only be used in combination with a high frequency electronic ballast.
Application. Philips MASTER TL5 High Output is ideal for recessed, surface-mounted luminaires in offices, shops, schools, public buildings and industry, where a high performance energy efficient lighting is required and has a fairly constant light output throughout the life. Dimmable / adjustable at the right ballast.
Available in light colors 827 (warm white), 830 (white), 840 (bright white) and 865 (daylight). The color rendering (Ra)> 80. TL5 High Output is available in 24W, 39W, 49W, 54W and 80W.
Note: The wattages Philips TL5 14W, 21W, 28W, 39W, 49W and 80W, see the TL5 HE group.