PL-S lamps with brass pins 2 and 4
are not interchangeable, given the otherwise started. Click here to find out more.
- PL-S 2, the starter pin built in the lamp and operates with a conventional gear.
- PL-S 4 is pin makes use of an electronic ballast is also optionally provided that the dimmable ballast has been properly applied.

PHILIPS MASTER PL-S lamps are not interchangeable terms wattages.
There is one exception and that is the 5W and 7W. This means in practice still a work. The same applies to the 7W with the 9W. But here submitted, check that the ballast is also suitable for this ability.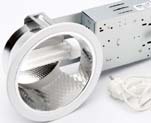 History of the PL-S (2pin) lamp.De Philips PL-S family is the first line of compact fluorescent lamps designed for non-retrofit applications, the idea which found nearly all compact fluorescent light bulbs are based. It was developed as a compact alternative for miniature fluorescent lamps TL which is usually in domestic applications, for example, base units, and for illuminating small areas built into furniture.
With its compact shape and integrated starter switch was hoped that a new generation of fixtures would be set up around the smaller lamp, enough to break into the applications where previously a light bulb would have been suitable. The PL-S lamps offer a similar light output and color quality of light bulb products, but on average eight times longer and consumes only a quarter of the electricity. The wattages of 5W, 7W, 9W and 11W are roughly equivalent to the light output of 25W, 40W, 60W and 75W lamps. A 13W version is available for the American market.
A simple push-fit G23 2-pin base is common across the range, and within the square plastic part is housed in a standard glow-bottle starter and a radio interference suppression capacitor. This simplified to reduce the wiring of the armature to the size and complexity of the lamp.
The inclusion of the capacitor in parallel with the starter, prevents these lamps for use in DC circuits, high-frequency ballasts, or emergency lighting system is used. For these applications, a starter-free lamp was treated with a 4-pin lamp cap a few years later offered.