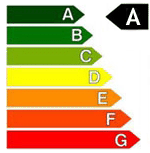 Philips MASTER PL-S 4 Pin
lamps are energy-efficient (Class A) compact fluorescent lamps consists of 2 parallel narrow fluorescent tubes. This 2-pin PL-S lamps with lamp base 2G7 be used with electronic switching device and is not compatible with other wattages. The light output at 25 ° C is between 52 to 77 lumens / watt which is reasonably high. The Philips PL-S 4p is dimmable.
Life.
Philips MASTER PL-S 4 Pin lamps have a loss of 10% at 8,000 hours and 50% failures 13,000 hours on electronic ballast. Luminous flux takes over his life gradually.
Available
in light colors 827 (warm white), 830 (white), 840 (bright white) and the wattage 5W, 7W, 9W and 11W. The color rendering (Ra) exceeds 82. Please note that the wattage determines the length of the lamp and is determined not simply interchangeable.