PHILIPS MASTER LED AR111 12V is the 10 or 15W Watt replacement DE LED replacement for your halogen 111 spots! for the 50 and 75W Halogen R111 halogen, respectively.

This is the best alternative for the 230V halogen R111 lamp.



When you use this LED spotlight, you do not have to worry about replacing it for the time being, given the very long burn time (up to 45x longer). You buy these with us always competitively priced.
Bundle widths Philips MASTER LEDspot AR111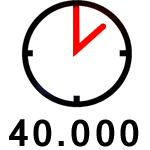 Light beam widths LEDspot AR111
Master LEDspot LV AR111 24D at 2.5 meter bundle width 115cm
Master LEDspot LV AR111 40D at 2.5 meter bundle width 200cm




How much do you save with this PHILIPS LED lamp compared to the standard halogen lamp:
Saving example 15W Master LEDspot compared to 75W halogen lamp is 60W per hour ->
With a one kilo / watt hour price of 23 euro cents and an average of 10 hours a day and 6 days a week: € 43.06 / year. From this lamp has already earned in a year in the electricity costs. This is a calculation example of an average store. This does not include the fact that the halogen lamp has been broken twice in the past year after these burning hours. You can estimate for yourself what happens when the burning hours are doubled or when the light is continuously on, then you have to multiply this amount by 2.4!