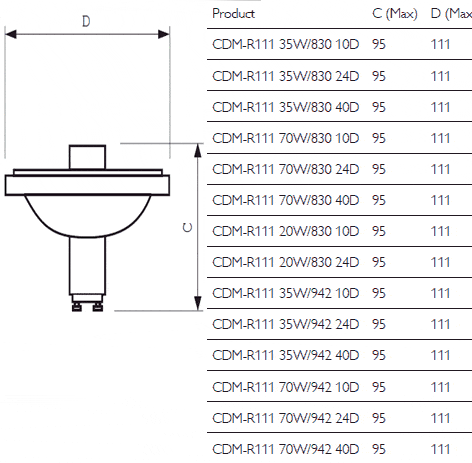 Energy Class A.
Philips CDM-R111 lamp is a very energy-efficient compact ceramic metal halide lamp. This Master CDM-R111 falls on the reflector (111mm). The burner capsule contains a UV block. This protection of discoloration of products and is characterized by its brilliant light and excellent color stability.
Application. Suitable for open fixtures in shops, showrooms and shop windows. This Master CDM-R111 lamp with easy gx8.5 lamp base is used with electronic gear. The CDM R111 has a protector anti-glare design.
Life of the Master CDM-R111. Loss of 10% at 6,500 hours and 50% failures in 11,000 hours on electronic ballast device. This Mastercolour CDMR111 lamp is not dimmable.
Available in light colors 830 (white) and 942 (bright white), wattages 20W, 35 and 70W. Degrees (bundled) 10 °, 24 ° and 40 ° degrees. The Colour rendering (Ra)> 81 for 3000K and> 85 for 4200K