Replacing the Philips Master TL-D Super 80 lamp. Fluorescent lamp with two pins on each side. You can run with a quiet rotary motion 90 degrees left or right, from the fitting.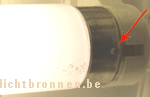 TL-D lamp tag, it must be perpendicular to the cap!
This until the mark (see photo) is no longer visible.
Make the armature voltage free! for safety. However, it is not necessary to light the lamp in the case of a conventional armature (with starter). With an electronic ballast is often necessary due to the ballast often the lamp off when removed. But it is always safer to turn off power. When placing the TL-D lamp turn extent that the marking is back view closed (see photo)


Faulty TL-D Super 80 lamp is easily identified by the black carbon in the lamp! If this is the case on two sides, there is a good chance that the ballast is shut down.



Faulty fluorescent lamp D

Versions of the Philips Master TL-D Super 80 lamp.
The color temperature can be 2700, 3000K, 4000K and 6500K ( know more! ). The TL-D Super 80 is available in capacities 14W, 15W, 18W, 23W, 30W, 36W, 38W and 70W. This TL-D lamps are used in combination with a high frequency electronic ballast or magnetic ballast and T8 (26mm) cap!

Versions of the Philips Master TL-D Xtra Super 80?
The Philips Master TL-D also has an ECO version, the Philips Master TL-D Eco

Do you require an even longer life of the fluorescent lamp?
If so, then the Master TL-D Xtra or Xtreme version. Average life of 66,000 hours even!
Experience teaches us to also replace the starter when the lamp has had its burn time. Starters are becoming increasingly 'diaper' and then ensure a slower start. Until the starter is worn so far and this is "stick" and the lamp does not start.
We have a very comprehensive and extensive stock fluorescent tubes because we put ourselves daily these lamps lamps. So you are with us at the right place when it comes to replacement bulbs! For OSRAM (Lumilux) or SYLVANIA fluorescent replacement lamps, please contact us.

The Philips Master TL-D Super 80 lamps are always with us cheap!