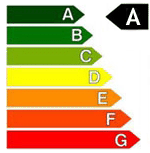 Energy label A. The Philips Master TL-D Super 80 HF is the first generation of low-pressure mercury discharge lamps with a diameter of 26 mm, filled with argon gas for use with "older" high frequency ballasts. This lamp is not used with the HFP, HFB or HFR versions ballasts.
Life at 10% failure of the TL-D HF is approximately 10,000 hours. 50% failures 15,000 hours. Might be wise to choose the Master TL-D Eco tube, or Master TL-D Super 80 series. This fluorescent lamp with G13 lamp base is Dimmable / adjustable at the right ballast. He is possibly interchangeable with the other Super 80 lamps.
Available in light colors 827 (warm white), 830 (white) and 840 (bright white) and in wattages 18W, 36W and 58W. The color rendering (Ra)> 85.