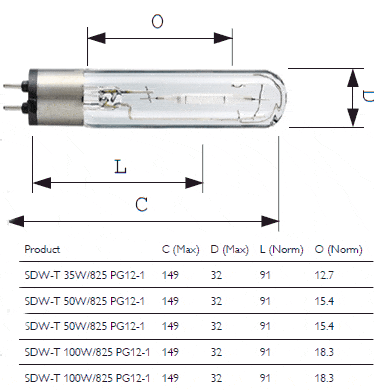 Philips MASTER SDW-T
lamp is a compact energy-efficient high-pressure sodium vapor lamp with a discharge tube of sintered alumina, enclosed in a clear soft glass outer envelope. This Master SDW-T also is a widely used metal halogen lamp in shops where food is sold. Includes a PIA (Philips Intergrated Antenna) for extra durability and UV protection. Gives a sparkling warm light and excellent color rendering, especially in warm colors.
Application.
In food shops (lighting of vegetables, fruit and bread), clothing furniture stores, showrooms and shop windows. Master SDW-T lamps with PG12-1 lamp base is used with electronic or conventional gear. Suitable for use in open fixtures.
Life of the Master SDW-T. Loss of 20% at 12,000 hours and 50% failures 15,000 hours. The light output at 25 ° C is 40-52 lm / watt which is very high. This Master SDW-T lamp is NOT dimmable.
Available in wattages 35W, 50W and 100W. The Color Rendering Index (Ra) is greater than 81. Installation of the lamp is universal.