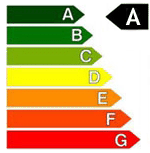 PHILIPS MASTER PL-Q
are energy efficient (efficiency label B) lamps. The PL-Q lamps use the GR8 cap for the 2 pin and GR10q for the 4 pin.
PHILIPS MASTER PL-Q lamps are commonly used 'bulbs' in stairwells, corridors, restrooms and entrances! These fixtures have been carried out with a 2 or 4-Q pin PL lamp.
PL-Q 2 and 4 lamps with brass pins are not interchangeable, given the otherwise started. Click here to find out more.
- PL-Q 2, the starter pin built in the lamp and operates with a conventional gear.
- PL-Q 4 is pin makes use of an electronic ballast, possibly dimmable provided that the correct ballast is applied.

Other wattages of this type PL-Q lamp are not interchangeable.
The luminaires with electronic ballasts are about 10% efficient and the lights go here usually take 20% longer, especially when these are equipped with a soft start