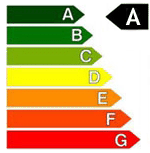 These Philips Master TL-D Super 80 is a class A energy.
A highly energy efficient lamp dus.Deze Philips Master TL5 circular has an average of 12,000 branduren.Deze Philips Master TL5 lamp is dimmable with an adjustable ballast! This Philips Master TL5 has a good color fastness (CRI), it is larger than 85! 2gx18 lamp base. For TL5 circular or Osram thin 13mm round tube G10q fluorescent lamp base. T8 lamp shape 26mm thick for Philips TL-E or Sylvania Circular Packaging Number associated with the discounts!
Philips TL-E Circular Super 80 is a circular fluorescent lamp with a lamp G10q-foot (26mm diameter fluorescent lamp)
Life. This round fluorescent tubes have a loss of only 50% at 9000 hours on conventional gear. Philips MASTER TL-E has an efficiency of 59-80 lumens / watt
Applications. Philips TL-E Circular Super 80 is ideal for luminaires in offices, shops, schools, public buildings and industry. The major advantage of this lamp is that there is little blackening and a wide light distribution. What makes this lamp ideal for fixtures where visual comfort and aesthetics is important. This PHILIPS lamp is dimmable to the correct ballast.
Available in light colors 830 (white) and 840 (bright white) 865 (Daylight) and color 33-640. The color rendering (Ra) is higher than 85 in the Super 80 and 63 in the standard colors. Philips TL-E Circular is available in 22W, 32W and 40W.
Additional advantage: full box of 25, 50 or 100 pieces!