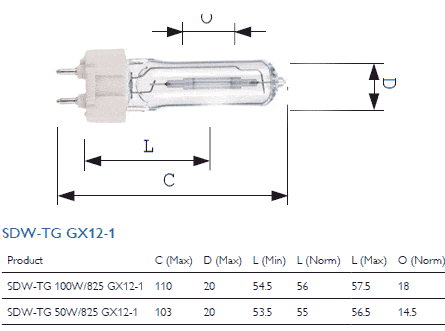 Philips MASTER SDW-TG Mini lamp is a very compact high-energy high-pressure sodium vapor lamp with a discharge tube of sintered alumina. This Master Color SDW-TG Mini is therefore a commonly used metal halide lamp in grocery stores. Equipped with PIA (Philips Intergrated Antenna) for longer life and UV block. Sparkling bright light and excellent color stability and very good color rendering in the warm colors.
Application. Illuminating food (greetings and fruit, bread) This Master SDW-TG lamp with GX12-1 lamp cap is used with an electronic VSA (only on HID-PV 50 or HID-PV 100). Suitable for use in open luminaires. Branding is universal.
Service life of the Master SDW-TG Mini . Dropout of 20% at 9,000 hours and 50% failure at 10,000 hours of electronic VSA. The light output at 25 ° C is 44-50 Lm / Watt. Master Color SDW-TG is NOT dimmable.