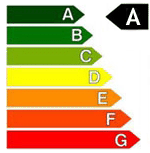 Energy Class A
Philips TL5 High Output Eco, G5 lamp base is the successor of "ordinary" fluorescent tube and is 40% thinner.
Longevity
This thin (16mm) fluorescent tubes have a loss of only 10% at 19,000 hours (50% at 24,000 hours). The lamp has a fairly constant light output throughout the life (more info). Philips MASTER TL5 High Output ECO has an efficiency of 114 lumens / watt, which may be considered as very high. This TL5 lamp can only be used in combination with an electronic high frequency ballasts.
Philips MASTER TL5 High Output ECO is ideal for surface-mounted and suspended luminaires in offices, shops, schools, public buildings and industry, where a high performance energy efficient lighting is required. PHILIPS MASTER TL5 HO Eco lamp Dimmable / adjustable at the right ballast.
Available in light colors 830 (white) and 840 (bright white). The color rendering (Ra) exceeds 85. The TL5 High Output ECO is available in 20W, 45W, 50W and 73W.