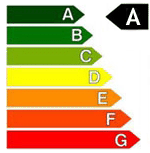 Energy Class A
Philips TL5 High Efficiency Secura G5 lamp base is the successor of "ordinary" fluorescent tube Secura and is 40% thinner.
Splinter free!
Life.
This thin (16mm) fluorescent tubes have a loss of only 10% at 19,000 hours (50% at 24,000 hours) Has all the benefits of TL5 HO lamp but also has a special protective coating around the lamp prevents products become contaminated in case of accidental lamp breakage. They have a very high efficiency. This lamp is easily recognizable by the blue ring around the light at the end of the lamp.
Philips MASTER
TL5 High Efficieny Secura
is ideal for where contamination resulting from lamp breakage must be prevented, as in the food-beverage industry, health care, pharmaceuticals, cleanrooms etc., or for use in environments with higher fracture risk, such as gymnasiums. With this lamp you meet a high quality energy efficient lighting. Philips MASTER TL5 High Efficieny Secura meets the standards in the food industry, such as HACCP and ISO22000. This PHILIPS MASTER TL5 HE Secura lamp is dimmable / adjustable at the right front ballast.
Available
in light colors 830 (white) and 840 (bright white). The color rendering (Ra) is more than 85. The TL5 High Efficiency Secura is available in 21W, 28W and 35W. The lamp has a fairly constant light output throughout the life (more info). Use a HF ballast with soft start for extra long life.