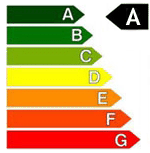 Energy Label A / B
Philips TL5 High Output 90 De Luxe with G5 lamp base is ideal for surface-mounted and pendant luminaires where high color perception is required. As tooth doctors, hairdressers, museums, shops.
Especially with the 965 version has the feeling that the light comes from outside, very pleasant.
Life.
This thin (16mm) fluorescent tube has a loss of only 10% at 19,000 hours (50% at 24,000 hours). They have a very high efficiency (85 lumens / watt).
These P
HILIPS TL5 HO 90 De Luxe
lamp Dimmable / adjustable at the right ballast.
Available
in 940 colors (bright white), 950 (at daylight) and 965 (daylight). The color rendering (Ra) exceeds 90. The Philips TL5 High Output 90 De Luxe is available in 24W, 54W, 49W and 54W. When one is not so concerned with the color fastness can also use the Philips Master TL5 High Output.