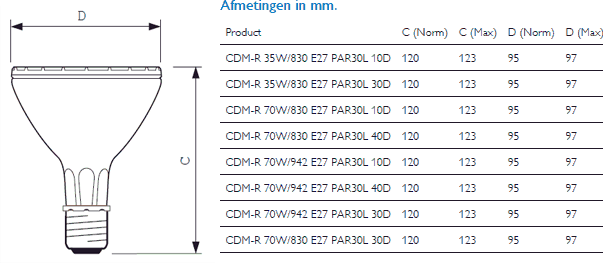 Energy Class A.
Philips MASTER CDM-R PAR30 lamp is energy-efficient and compact ceramic metal halide lamp with PAR30 (95mm) reflector. Equipped with UV filter against fading.
Application. Suitable for use in open fixtures. To be used in small compact luminaires for accent lighting and decorative lighting. The CDM-R PAR30 has a E27 socket.
Life of the Master CDM-R. Loss of 10% at 6,000 hours and 50% failures in 11,000 hours on electronic gear and depending on lamp power. The light output at 25 ° C is 83-95 lumens / watt. Master CDM-R is not dimmable.
Available in light colors 830 (white) and 942 (bright white) and the wattage 35 and 70W. Degrees (bundled) 10 °, 30 ° and 40 ° degrees. The Colour rendering (Ra)> 82 for the 3000k and> 94 for the 4200K.
Alternative. CDM-R PAR 30 Elite: increased light output and improved lumen maintenance and color rendering.