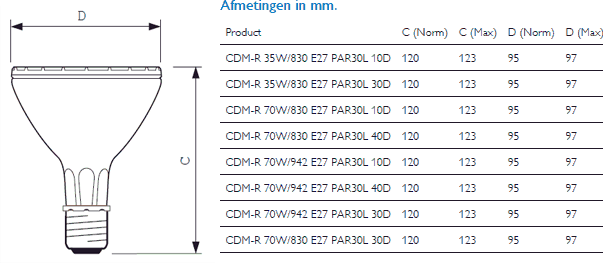 Energy class A. Philips MASTER CDM-R Elite PAR30 lamp is a very energy-efficient and compact ceramic metal halogen lamp with PAR30 (95mm) reflector. This Master Color CDM-R Elite has t.ov. the standard CDM-R has an increased color rendering> 90, higher luminous flux (see more info) and even better lumen maintenance. Equipped with UV filter against discoloration.
Application. Suitable for use in open fixtures. Can be used in small compact luminaires for accent lighting and decorative lighting. This Master Color CDM-R Elite PAR30 lamps with E27 lamp base is used with an electronic VSA
Lifetime of the Master Color CDM-R Elite. Failure of 10% at 6,000 hours and 50% failure at 12,000 hours on electronic ballast and depending on lamp power. Master Color CDMR Elite is not dimmable.
Available in the lamp color 930 (white) and in the wattage 35 and 70W. Degrees (bundles) 10 °, 30 ° and 40 ° degrees. The Color Rendering Ra> 90