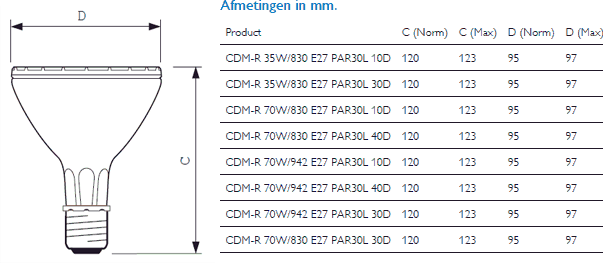 Energy class A. Philips MASTER CDM-R PAR30 lamp is an energy-efficient and compact ceramic metal halogen lamp with PAR30 (95mm) reflector. Equipped with UV filter against discoloration.
Application . Suitable for use in open fixtures. Can be used in small compact luminaires for accent lighting and decorative lighting. The CDM-R PAR30 has an E27 lamp base.
Service life of the Master Color CDM-R. Failure of 10% at 6,000 hours and 50% failure at 11,000 hours on electronic ballast and depending on lamp power. The light output at 25 ° C is 83-95 Lumen / Watt. Master Color CDM-R is not dimmable.
Available in lamp colors 830 (white) and 942 (clear white) and in the wattage 35 and 70W. Degrees (bundles) 10 °, 30 ° and 40 ° degrees. The Color rendering (Ra)> 82 for the 3000k and> 94 for the 4200K.
Alternative . CDM-R PAR 30 Elite: increased luminous flux, improved lumen retention and color reproduction.