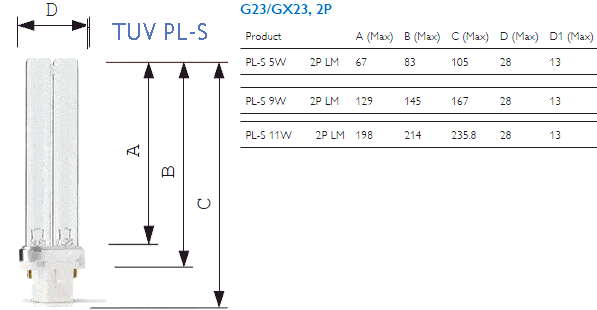 The Philips TUV PL-S
indicates a short-wave UV-radiation having a peak at 253.7 (UV-C) for germicidal action. Pond lamp which is frequently used for killing algae and killing of harmful bacteria in ponds by means of UV-C.
Ideally suited
for killing or inactivating bacteria in:
-
Hospitals,
bacteriological research and pharmaceutical environments,
-
Pond lamp
for killing algae, UV PL-S lamp replacement pond.
-
Food industries,
such as dairies, breweries, bakeries disinfection of drinking water, swimming pool and a variety of photochemical processes
Features:
Lamp glass filters out the 185 nm ozone-forming line. A protective coating limits depreciation of UV-C. TUV PL-S lamp base contains a special starter for the start almost immediately.
Lifespan:
Philips TUV PL-S lamp has an effective life of 9,000 hours.
Available
in 2pin and 4 pin and the wattage TUV PL-S 5W, TUV PL-S 7W, TUV PL-S 9W / 2p and TUV PL-S 9W / 4p, and TUV PL-S 11W / 2p. Best UV lamp for your pond.