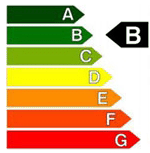 Energy class B.
Philips MASTER PL-C Xtra 2 or 4 pins. Energy-saving compact fluorescent lamps with 4 parallel narrow fluorescent tubes.
Application. They are used where maintenance costs are high, such as high ceilings or difficult to reach places.
Lifetime of Master PL-C Xtra is 2 times as long. Loss of 10% at 12,000 hours, and 50% failures 16,000 hours for conventional switching device. When this longevity does not matter can take the cheaper MASTER PL-C 2 pin. The PL lamp is NOT dimmable.
Available in light colors 830 (white) and 840 (bright white) and in wattages 18W and 26W. The color rendering (Ra) is higher than 82.