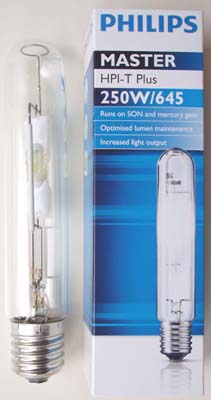 Replacing
Philips HPI-T plus light source with E40 lamp base. Make the armature voltage. Allow to cool the lamp (may be 550 degrees Celsius!), As these have not yet burned, this may be 10 minutes in view of the high temperatures of the lamp. After this you can unscrew with a peaceful twist counterclockwise motion lamp. Placing the lamp screw clockwise until there is some resistance. -Energized making the luminaire is definitely recommended given the high ignition voltage but is often necessary to light the lamp.
Faulty HPI-T plus lamp is difficult to recognize. Often, this HPI-T plus lamp off and this remains for a few minutes, then to start up again. It is then time to replace the lamp. Usually is to see whether any discoloration and weakening of the light.
HPI-T plus E40 lamp 250WUitvoeringen the Philips HPI-T Plus lamps. They are available in various wattages 250W and 400W with the lamp base E40! The lights are usually not replaced by other wattages. The load on the ballast is different and this gives practical problems such as a lamp does not come on strength and thus gives a strange color or does not start. Luminous flux of 20,500 lumens to 32,000 lumens (SEE more information on lamp). Temperature HPI-T Plus lamps 4440 Kelvin for the 250W and 4560K for 400W. (Knowing more!).
Lifetime of Philips HPI-T Plus lamps.
Life to 5% Failure 5,000 hours
Life to 10% failure 7500 hours
Life to 20% failure 11000 hrs
Life to 50% failures 20000 hours
Lumen Table of Philips HPI-T Plus lamps.
HPI T plus 1000W - 20500 lumen
HPI T plus 2000W - 32000 lumen