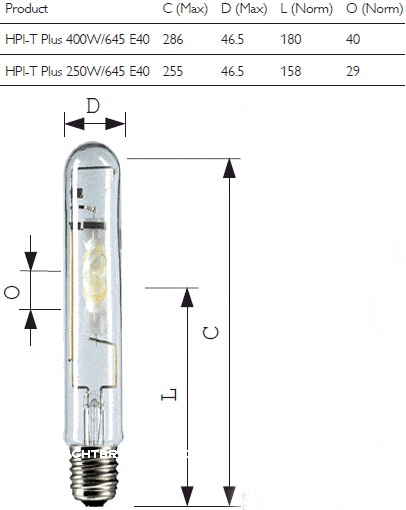 Philips HPI-T plus lamp is a clear tubular metal halogen lamp consisting of a quartz discharge tube filled with high-pressure mercury and a mixture of metal halides. Features its much better lamp color display than the standard SON lamp and longer life. Excellent lumen maintenance and long service life guarantee optimum illuminance and minimal maintenance costs. The excellent color stability ensures uniform colors throughout the life cycle thanks to 3-band technology. The "Plus" lamps can also be operated on high-pressure sodium (SON) ballasts.
Application . This HPI-T plus is mainly used in public lighting, lighting buildings, sports facilities, petrol pumps, parking places and other general public places where safety plays a role. The HPI lamp with E40 socket is used with a conventional ballast and is suitable for use in closed luminaires.
Lifespan of the HPI-T plus. Failure 5% at 5000 hours and 50% failure at 20000 hours. The light output at 25 ° C to 84 Lumen / watt. This HPI T lamp is not dimmable.
Available in the lamp color display 4440K (white) and in the wattages 250W and 400W with E40 fitting and 220V. The Color fastness (Ra)> 65