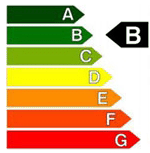 Energy label B Fluorescent lamp. Thickness 16mm. OSRAM BASIC T5 short 4W / 640

Lifetime OSRAM BASIC T5 Short 4W / 640 is 8,000 hours.
Good lumen maintenance (lumen maintenance up to 90% of life).
The OSRAM BASIC T5 short delivers up to 64 Lumen / Watt.
This T5 lamp with G5 lamp base is dimmable.