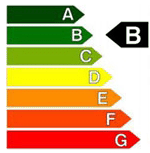 Philips MASTER PL-T 4 Pin
lamps are energy efficient (Class B) compact fluorescent lamps with 6 parallel narrow fluorescent tubes. This 4-pin PL-T Xtra lamps with lamp base GX24q be used with an electronic ballast and have an extra long life of up to 2.5 times. The light output at 25 ° C is 75 lm / W that is reasonably high. MASTER PL-T 4 pin is one of the most widely used professional CFL. They are used in wall fixtures and up and -downlighters both flush or surface where maintenance costs are high, such as high ceilings and hard to reach places such as department stores, supermarkets, warehouses, production halls and public spaces.
Life. Philips MASTER PL-T 4 Pin lamps have a loss of 10% at 20,000 hours and 50% failures 33,000 hours with conventional gear. Extra longevity does not necessarily choose the standard MASTER PL-T 4-pin. The PL-T 4 pin lamp is dimmable.
Available in light colors 830 (white) and 840 (bright white) and in wattages 26W 32W and 42W. The color rendering (Ra) is higher than 80