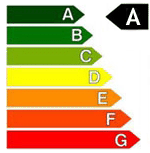 Energy Class A.
Philips MASTER PL-L Xtra 4 Pin lamps are energy efficient compact fluorescent lamps with 2 parallel narrow fluorescent tubes. The lengths vary as the wattage is higher.
This 4-pin PL-L Xtra lamps 2G11 lamp base be used with an electronic ballast. The light output at 25 ° C is 65-81 lm / watt which is reasonably high. MASTER PL-L Xtra 4 pin is used primarily in inaccessible places.
Lifetime Philips MASTER PL-L 4 Pin lamps have a loss of 10% at 25,000 hours and 50% failures 36,000 hours with electronic ballast. They are easily replaced with the MASTER PL-L Xtra 4-pin and long life is required. The PL-L 4 pin lamp is dimmable
Available in light colors 830 (white) and 840 (bright white) and in wattages 36W and 55W and 80W. The color rendering (Ra) is higher than 82.