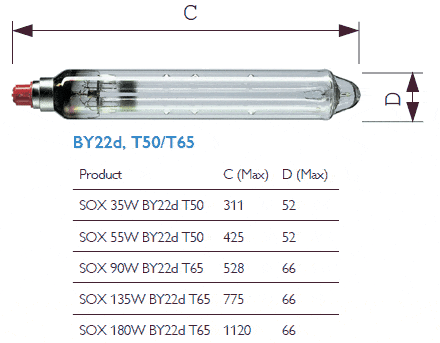 Philips SOX lamp
is a low-pressure sodium vapor lamp with a U-shaped discharge tube is enclosed in clear outside glass. This Master SOX is a widely used sodium lamp in public lighting. Characterized by its extremely high luminous flux. The color is orange / yellow light, monochromatic (in a very small light spectrum) Highest lumen / watt ratio of all gas discharge lamps.
Application.
This SOX is used to illuminate streets, tunnels, parking lots and other general public places where security plays a role. Often wall or ceiling fixtures (or construction) and lampposts. MASTER SOX-foot lamp with red BY22d be used with an electronic ballast.
Lifetime of MASTER SOX. Loss of 20% at 12,000 hours and 50% failures 18,000 hours on electronic ballast. The light output at 25 ° C is 126-150 Lm / watt. This Master SOX lamp is NOT dimmable.
Available in 1700K lamp color (yellow orange) and in wattages 35W, 55W, 90W, 135W and 180W. Color fastness (RA) is 44. Brand Stand H110 (35 and 55W).