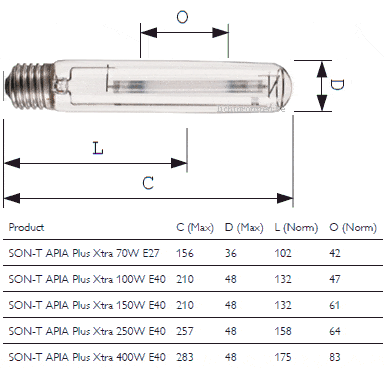 Philips MASTER SON-T PIA Plus Xtra lamp is a clear tubular high pressure sodium lamp with PIA (Philips Integrated Antenna) technology. The PIA technology guarantees optimal operational reliability and reliable (less than 30 seconds) re-ignition. New, more robust construction with fewer weld points for better vibration and shock resistance, fewer initial failures and longer lamp life. The outside is a hard glass outer balloon. Characterized by its good lumen/watt ratio and long life. Very high reliability of 0% failure the first 6000 hours. Universal Burning Mode.
Application . This MASTER SON-T PIA Plus Xtra is used in public lighting, sports facilities, horticulture, parking lots and the lighting of buildings and objects and other general public places where safety plays a role. Often in surface-mounted fixtures and lampposts. The SON T PIA Plus Xtra lamps with E40 lamp base are used with a conventional ballast with or without igniter. Suitable for use in closed luminaires.
Lifetime of the MASTER SON-T PIA Plus. Failure of 5% at 24,000 hours and 50% failure at 40,000 hours on electronic ballast. The light output at 25°C can reach 150 Lumen/watt, which is quite high.
Available in the lamp color display 2000K (yellow/orange) and in the wattages 50W, 70W, 150W and 600W with an E40 fitting. The Color Fastness (Ra) is 25 max.