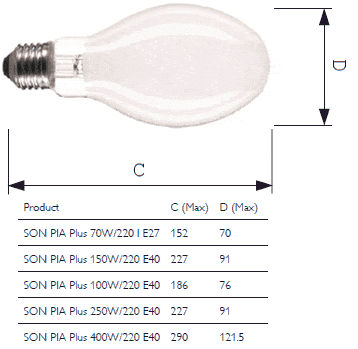 Philips SON PIA Plus lamp
is a diffuse ovoid (egg-shaped) high-pressure sodium lamp with PIA (Philips Integrated Antenna) technology. This PIA technology provides optimum reliability and lower failure rate, with reliable ignition over lifetime. The exterior is a hard outer glass bulb with a white inner coating. Characterized by its high light output and long life. Only 0% dropout rate in the first 6000 hours! This SON PIA Plus lamp is lead free and has a higher luminous flux and more efficient energy consumption than the standard SON. The burning position is universal.
Application.
Philips SON PIA Plus is mainly used in public lighting, lighting up streets, tunnels, parking lots and other general public places where security plays a role. Often in building fixtures and lamps. The SON PIA Plus lamps with E27 and E40 lamp base be used with a conventional ballast. Suitable for use in enclosed fixtures.
Lifetime
of SON PIA Plus. Loss of 5% to 50% failures 16,000 hours and 36,000 hours on electronic ballast depending on lamp power. The light output at 25 ° C can be up to 130 lm / W. This SON PIA Plus lamp is dimmable.
Available in 2000K lamp color (yellow / orange) and in wattages 70W, 100W, 150W, 250W and 400W. The color fastness (R) is thus 25.