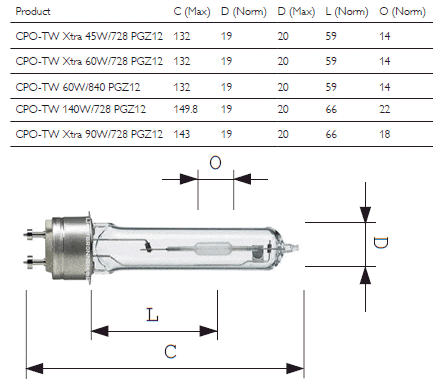 Philips MASTER City White CPO-TW lamp is a clear tubular metal halogen lamp with a ceramic discharge tube and PGZ12 lamp base. The outside is a hard-glass quartz outdoor balloon. Excellent lumen maintenance, high lamp color reproduction and long service life guarantee optimum lighting strength and minimum maintenance costs. Constant Light color throughout the life. Flexible light levels and reduced energy consumption via dimming option *.
Application . Especially for outdoor lighting with white light. This Philips City White CPO-TW is mainly used in city centers, shopping centers, pedestrian areas, residential areas, road lighting and floodlighting. The CPO TW lamp with PGZ12 lamp base is used with an electronic ballast and is for use in closed luminaires. Reduce your energy costs by 10-150%. For outdoor applications
Lifetime of the CPO-TW. Dropout 10% at 16000 hours and 20% failure at 30000 hours. The light output at 25 ° C to 84-118 Lumen / watt. This CPO-TW lamp is dimmable. The maximum re-ignition time is 720 seconds.
Available in the lamp color display 2800K (warm white) and 4000K (only the 60W!) And in the wattages 45W, 60W, 90W and 140W and a PGZ12 fitting. The color fastness (Ra) is 66.