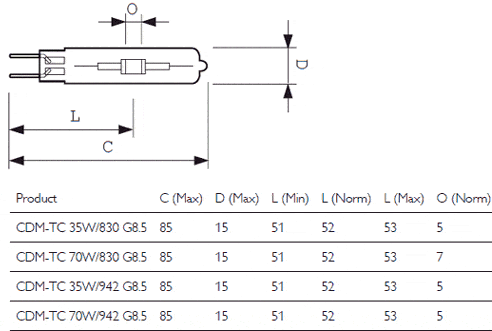 Energy class A. Philips MASTER CDM-TC lamp is a very energy efficient and the most compact ceramic metal halide lamp. This Master Color CDM-TC is therefore a widely used metal halide lamp with UV filter for protection against discolouration. Characterized by sparkling light and excellent color stability.
Application . Accent lighting. In pendant luminaires, wall luminaires, both for surface mounting or recessed installation in shops, showrooms and shop windows in both uplighters and downlighters. These Master Color CDM-TC lamps with G8.5 lamp base are used with an electronic ballast. This CDM-TC lamp should only be used in closed fixtures to keep hot shards together in the event of breakage.
Lifetime of the Master Color CDM-TC. Failure of 10% at 8,000 hours and 50% failure at 12,000 hours on electronic ballast. The light output at 25°C is 83-95 Lm/watt which is very high. Master Color CDM-TC is not dimmable.
Available in lamp colors 830 (white) and 942 (clear white) and in wattages 20W, 35 and 70W. The Color Rendering (Ra)>81 for the 3000k and >85 for the 4200K.
Alternative . CDM-TC Elite: higher luminous flux, improved lumen maintenance and color rendering, CDM-T lightBoost = dimmable CDM-TC