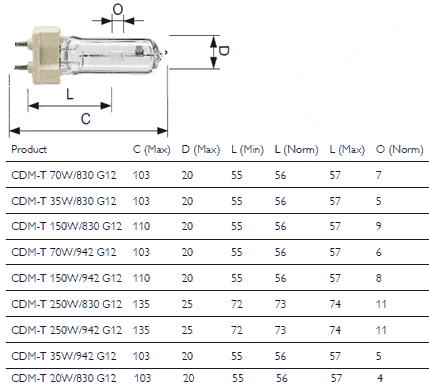 Energy class A+ Philips MASTER CDM-T 150W/830 lamp is a very energy-efficient ceramic metal-halogen lamp. This Master Color CDM-T is therefore a widely used metal halide lamp with UV filter and is characterized by its sparkling light and excellent color stability.

Application . In pendant luminaires, wall luminaires and downlights, both surface-mounted and recessed. In shops, showrooms, shop windows and outdoor lighting in both uplighters and downlighters. These Master Color CDM-T lamps with G12 lamp base are used with an electronic or conventional ballast. The CDM-T lamp should only be used in closed luminaires.
Lifetime of the Master Color CDM-T. Failure of 10% at 12,000 hours and 50% failure at 15,000 hours on electronic ballast. The light output at 25°C is 83-95 Lm/watt which is very high. This CDM-T lamp is NOT dimmable.
Available in lamp colors 830 (white) and 942 (clear white) and in wattages 20W, 35W, 70W, 150W and 250W. The Color Rendering (Ra) is higher than 82 for the 3000k and >92 for the 4000K. Fire mode is universal.
Alternative . CDM-T Elite: For higher luminous flux, improved lumen maintenance and color rendering.