Colour fastness of lamps
A commonly used term on the website: Colour fastness
Colour fastness and color rendering index. But is meant here now? The color rendering index (Ra) of a light source is an index for the quality of color reproduction of objects illuminated by such light source.
The determination of the index used to be done by a large number of human observers, but can now be performed using color-sensitive sensors and computers. For the perception by the human eye this is "seeing" colors the way of interest. So how faithfully turns an object.

Is blue in daylight or blue under a certain type of lamp?

Examples:
-The Light yellow low-pressure sodium lamps have an Ra of 0. This is hardly distinguishable color
-The Modern white fluorescent tube has an Ra of 8 (80%) to 9 (90%). This is a fairly realistic color reproduction.
-Hogedruk Metal halide lamps, a color rendering index of 90. Here are the colors much the same as outside (daylight)

The highest color rendition have incandescent lamps, the Ra thereof is virtually 100.
You can see below what color range (spectrum), some lights are "light" indicates: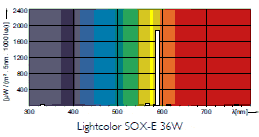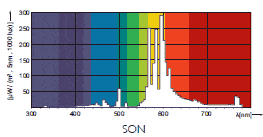 low-pressure sodium lamp (Ra = 0) high pressure sodium lamp (Ra = 21)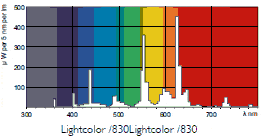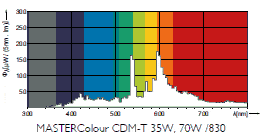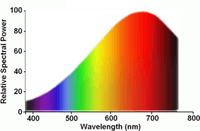 metal halide (Ra = 85) tld super pipe 80 (Ra = 85) bulbs
Depending on the type of artificial colors are less saturated or gray over. A butcher will be happy to fresh meats present red. When buying clothes sometimes buyers outside to assess how the color looks in daylight, if not chosen the right source. When colors in the works are important, such as a painting studio or a design, it is important to choose sources with a high color rendering index representing the colors of the workpiece optimally (neutral).
How the human eye, photographic material and image chips perceive color is determined by the type of natural or artificial lighting which is used, in which one can think that human brains a hue as it were, can filter out. Early in the morning, for example, will happen to the deep blue color better and more saturated than against the sunset when more red is present in the light.
Patterns of color do not apply only to the human eye but also for photographic material and image chips. Without correction will object illuminated by a fluorescent light color 33 or a high-pressure mercury HPL N (commonly used in an industrial environment) seem green. Objects illuminated with high color temperature ("cold" light) (especially in warmer countries) uncorrected will display a blue cast. The colors red and yellow appear less well under this light source.