PL-T and T Dulux lamp bases
The lamp bases are made so that the bulbs are not interchangeable. The version with 2 pins for conventional gear (2pin) and the version with 4 pins for electronic gear (4-pin)! The version with two pins has an internal starter in the lamp cap and the electronic is not.
These can not be exchanged because the pin 2 has a built-in starter and the 4 pin no. This is ignited by the electronic ballasts. One can look at the fixture how the fitting looks.
Here is how the fitting of a 2 pin's PL-T GX24d cap on the bottom looks like.
GX24d-1 for the PL-T 13W, GX24d-2 for PL-T 18W, GX24d-3 for the PL-T 26W.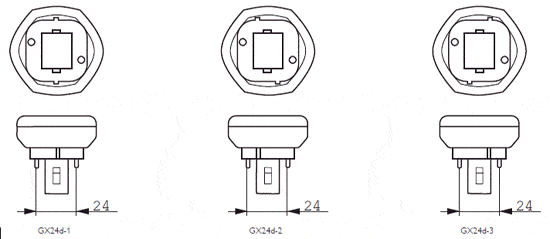 Fitting Philips Master PL-T 2 pin lamps


Lamp caps Philips Master PL-T 4 pin lamps
The Master PL-T 4 Pin lamps are available in various wattages but have or other light feet to prevent exchange.
GX24q-1 (13W) GX24q-2 (18W) GX24q-3 (26W + 32W) GX24q-4 (42W) GX24q-5 (57W)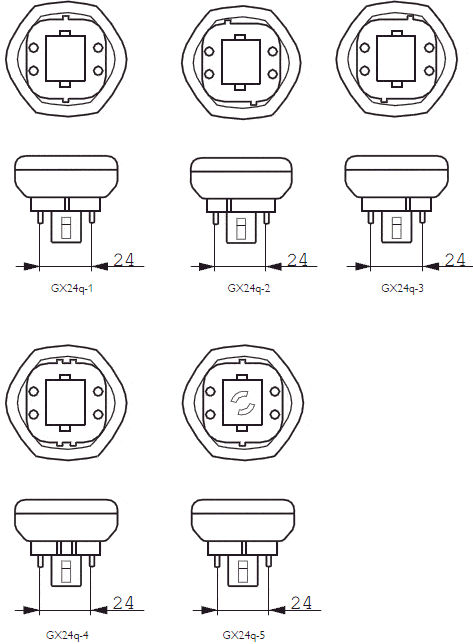 The lamp can pull a peaceful withdrawal movement out of the socket. -Energized making the fixture is often necessary but also safer for the new lamp to light given ballast, the lamp has switched off.