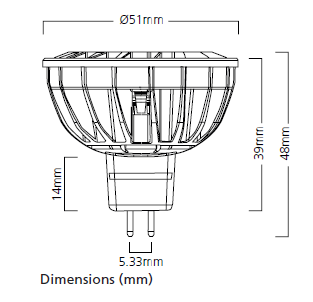 Energy Class A +
RefLED superia MR16 LED lamp. Up to 90% energy savings compared to halogen lamps SYLVANIA HI-SPOT RefLED lamps are highly energy efficient dimmable halogen lamp substitutes with GU5.3 lamp base. These LED spot 8W LED spot lights are used with halogen MR16 lamp holder with a transformer. The light output is approximately
72 lumens / watt
which is high. This is 5 times more than incandescent -and halogen lamps. The dimmable RefLED 8W superia version ensures a 100% retro, because the dimensions are identical to the halogen lamp Sylvania Coolfit
Life. SYLVANIA RefLED MR16 8W lamp has an average life of 25,000 hours.
Application. The MR16 7W RefLED is particularly suitable for display cabinets, bedside lamps, toilets, corridors, stairwells, where the light much or always on. The replacement for 50W halogen lamp. No UV and IR radiation. Fully Dimmable.
Available in the light colors 2700K (warm white), 3000K (white) and 4000K (cold white) and the wattage 8W. Beam widths 25 and 40 degrees. The color rendering (Ra) is higher than 80.