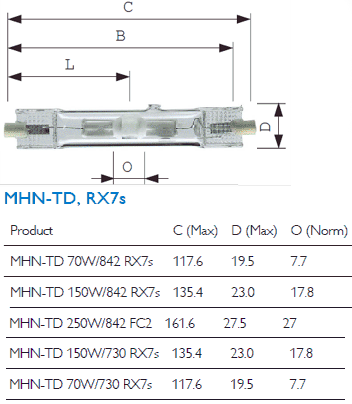 Philips MHN-TD lamp is an energy-efficient double-sided quartz metal halogen lamp. This MASTER MHN-TD is therefore a commonly used metal-halogen lamp with UV filter for protection against discoloration.

Application . These MHN-TD lamps with RX7s lamp base (FC2 for the 250W) are used with an electronic or conventional ballast. This MHN-TD lamp should only be used in closed luminaires because of glass breakage. Horizontal fire position +/- 45 °.

Lifetime of the MHN-TD. Dropout of 10% at 6,000 hours and 50% failure at 9,000 hours on electronic ballast. The light output at 25 ° C is 76-95 Lm / watt which is high. This MASTER MHN-TD lamp is NOT dimmable.

Available in lamp colors 730 (white) and 842 (clear white) and in wattages 70W, 150W and 250W. The Color rendering (Ra)> 75 for the 3000k and> 85 for the 4000K.
Alternative . It is wiser to choose the Philips MasterColour CDM-TD because it lasts longer, has better color rendering and better color stability