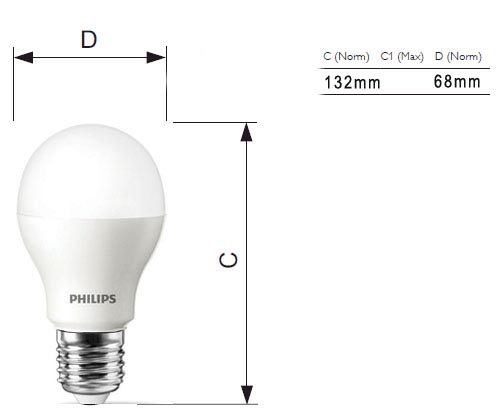 Energy class A + LED lamp. The Philips CoreLEDBulb lamps are very energy-efficient light bulb replacements with "thick" E27 fitting. These LED Bulb (LED "Incandescent") lamps with E27 socket are used on 230V-240V mains voltage. The light output is approximately 80 Lumen / watt which is reasonably high. This is about a 5x more than a halogen lamp.
Lifetime . Philips CoreProLEDbulb lamps have a lifetime of 15,000 hours at 20,000 times switching.
Application . The CorProLED A60 lamp provides a dimmable glow effect for a welcoming, warm atmosphere. Its unique design radiates warm light in all directions, making it a real alternative to the light bulb. They can be used well in wall-mounted luminaires, table lamps, toilets, corridors where the light is much on. The 5.5W for the 40W incandescent lamp and the 9W for the 60W incandescent lamp and 15W for a 100W incandescent lamp.
Available in lamp colors 2700 Kelvin (extra warm white light) 3000K (Warm white) and in wattages 5.5W, 9W and 15W. The color rendering (Ra) is higher than 80.